Today was the first day of lil' monkeys and we had a blast!  The kids arrived at the Springville location at 11am and the fun lasted until 4pm.  Once all the kids arrived we traveled to Orem for a fun day at Classic Skating!  It was a great way to kick off our summer of fun.
Classic is great because no matter what age or skill level, their is something for everyone! The kids could skate, Rollerblade or bring a scooter from home.  The kids had a blast playing classic games like, wipe out, girls only and boys only skate offs, and of course the hokie pokie.
In addition to the kids loving to roll around on the skate floor they also got to jump, slide, and bounce around on several inflatable toys that were set up in the middle of the skate floor.  In between all the fun skating games were bouncing games too!  One of our lil' monkeys beat all of the other kids at Classic by keeping his balance while jumping up and down 20 times on an inflatable platform!  His name was annouced as the winner and he was given a prize.  Our lil' monkeys rock!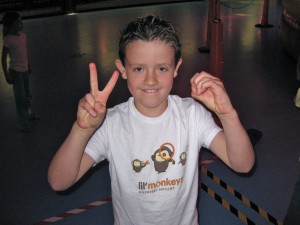 Showing he won by bouncing 20 times!